For all official information and updates regarding Covid-19 visit the South African Department of Health website at
www.SAcoronavirus.co.za
or their WhatsApp line on 0600-123456. If you want your own WhatsApp Chatbot visit
www.whatskonnekt.com

Port Shepstone,

South Africa

Call Us Today:

+ 27 39 682 0796
OUTDOOR
SHOOTING RANGE

Location: KZN, Port Shepstone,

Izotsha Accreditation: NRCS/SABS,

SAPS, NHSA Range Size: 100metre

long and 50metre wide

SECURITY SERVICES

Mzansi Security and training

provides quality services in

security since we use people

that we internally trained and

know that they are fit and

competent in whatever job

assigned to them

FIREARM TRAINING

Quality training at it best:

We boast that we are a

fully accredited training

institution that has been

operating since 2009 and

we are fully compliant.

CLOSE PROTECTION
OFFICER TRAINING

7854: Provide First aid

244317: Provide static

protection to designated

persons

SECURITY TRAINING

PSIRA grade: E, D, C,

B, A...Cash In Transit Training

...Armed Response Security
The company was founded in 2009 and by God's grace it

managed to grow each year, achieving more qualifications and

growing in experience within the safety and security industry.

Mzansi Security and Training is a 100% BBB-EE company, with

youth empowerment and it has been an advantage to convince

other youth to engage in developing their skills in the Industry and

has also been a helping hand to the local community in training.

The company is situated in KZN ,with the registered Head office

on Nelson Mandele drive Boodhram House building in Port

Shepstone.

Mzansi Security and Training is currently registered/accredited with

different

Government and Independent organisations in order to

comply with the law of South Africa.

Mzansi Security and Training is a registered safety and security

service provider and skills development training provider co.

Mzansi security and Training boast with the qualified and

experienced staff,

others with a military and police background.

ACCREDITATIONS

CIPRO, SARS, PSIRA, SASSETA, SAPS, SABS/NRCS , PFTC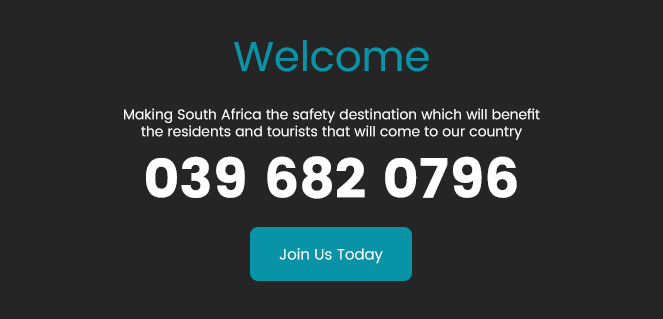 Port Shepstone, South Africa
Call Us Today: + 27 39 682 0796

info@mzansisecurity.com

OUTDOOR
SHOOTING RANGE
Location: KZN, Port Shepstone,
Izotsha Accreditation: NRCS/SABS,
SAPS, NHSA Range Size: 100metre
long and 50metre wide

SECURITY SERVICES
Mzansi Security and training
provides quality services in
security since we use people
that we internally trained and
know that they are fit and
competent in whatever job
assigned to them

FIREARM TRAINING
Quality training at it best:
We boast that we are a
fully accredited training
institution that has been
operating since 2009 and
we are fully compliant.

CLOSE PROTECTION
OFFICER TRAINING
7854: Provide First aid
244317: Provide static
protection to designated
persons

SECURITY TRAINING
PSIRA grade: E, D, C,
B, A...Cash In Transit Training
...Armed Response Security
The company was founded in 2009 and by God's grace it
managed to grow each year, achieving more qualifications and
growing in experience within the safety and security industry.
Mzansi Security and Training is a 100% BBB-EE company, with
youth empowerment and it has been an advantage to convince
other youth to engage in developing their skills in the Industry and
has also been a helping hand to the local community in training.
The company is situated in KZN ,with the registered Head office
on Nelson Mandele drive Boodhram House building in Port
Shepstone.
Mzansi Security and Training is currently registered/accredited with
different Government and Independent organisations in order to
comply with the law of South Africa.
Mzansi Security and Training is a registered safety and security
service provider and skills development training provider co.
Mzansi security and Training boast with the qualified and
experienced staff, others with a military and police background.
ACCREDITATIONS
CIPRO, SARS, PSIRA, SASSETA, SAPS, SABS/NRCS , PFTC